The Quick Version
As kids, we would often dream of fighting evil and saving the world, like our favorite heroes from television, movies & video games. As we got older, we were forced to grow up, but we never forgot those heroes that inspired us! We wanted to create something useful that still reminded us of the stories and characters that we love, and Hero's Armory was born!
Each product we create and sell here at Hero's Armory is 100% unique and custom. You won't find any of our products anywhere else online. Each product is made solely by us and shipped directly from our team in Boise, Idaho. We are always looking for the next item to create, and we think you'll love all of the products you'll find right here on our website.
The Long Version
The company that would eventually lead to Hero's Armory began in June 2015 by Brian Hermansen & Blake Peel. The company, originally called Broadsword Entertainment Group before being renamed Naodo, began as a platform to help independant authors reach a wider audience. The duo took a few stabs at various products over the next several months (a few apps, a couple of card games, etc).
In November 2015, Brian's first son was born. One night, he flipped on the extended edition of The Fellowship of the Ring as he tried to get his kid to sleep. At the time, Brian was a full-time brand & product consultant for a consulting agency. He had been working closely with a company to create a product that neatly organized keys (something similar to the Keysmart). While watching the movie, and with keys on the mind, Brian thought to himself, "Whoa. The shards of Narsil looks a lot like an uncut key." This thought grew & grew until it eventually became The Key Armory (which was the original name of the company behind our swords keys).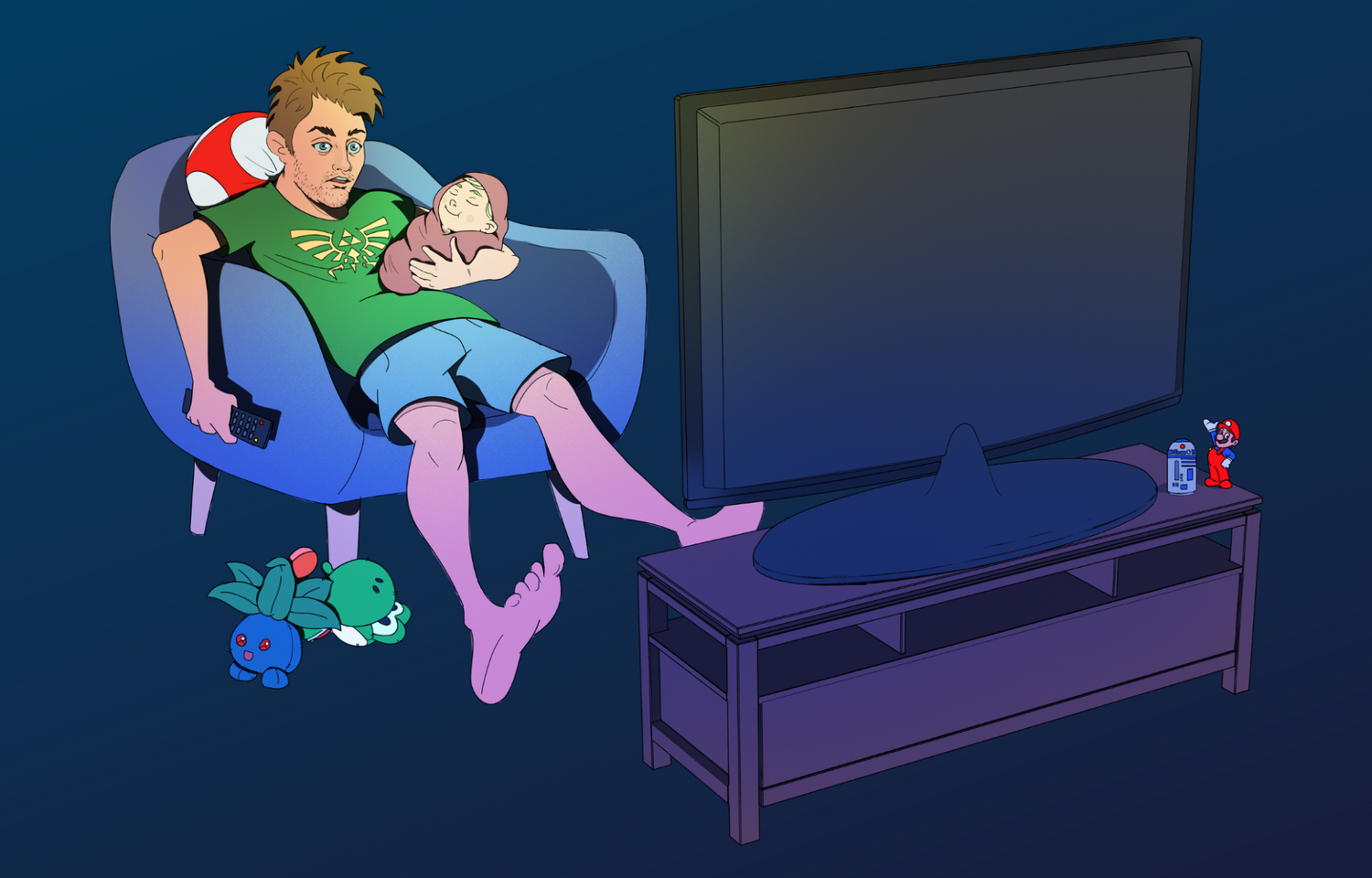 Brian first thought of sword house keys while watching Lord of the Rings with his baby son...
In January 2016 we launched our first Kickstarter campaign. This helped fund our first 10 designs, available in 2 different key types. After the campaign ended, we began making our sword keys & found a mass-production facility in Oregon to help us out.
In March 2016 Blake left the company to pursue other opportunities. He moved back east and began his independant author career. Since then, he has released several fantasy & science fiction novels, which you can find here. It was at this time that Brian brought on Rod Villalba to help out with fulfillment & sales.
In April 2016 we moved into our first "office" space, which was basically a glorified broom closet, which was shared by Brian & Rod. There was so little room that Brian had to climb over boxes to get to his desk.
In September 2016, after we had fulfilled pre-orders & Kickstarter rewards, we attended our first show in Salt Lake City. We immediately decided that from here on out, we would attend as many shows & live events as possible.
In December 2016 we rented out the broom closet next to our already existing broom closet. Now we had TWO broom closets to conduct business from. Rod moved into the broom closet next door.
In January 2017, one year after the launch of our first 10 designs, we launched another 10 on Kickstarter. This campaign unlocked designs that would go on to become some of our best selling sword keys so far.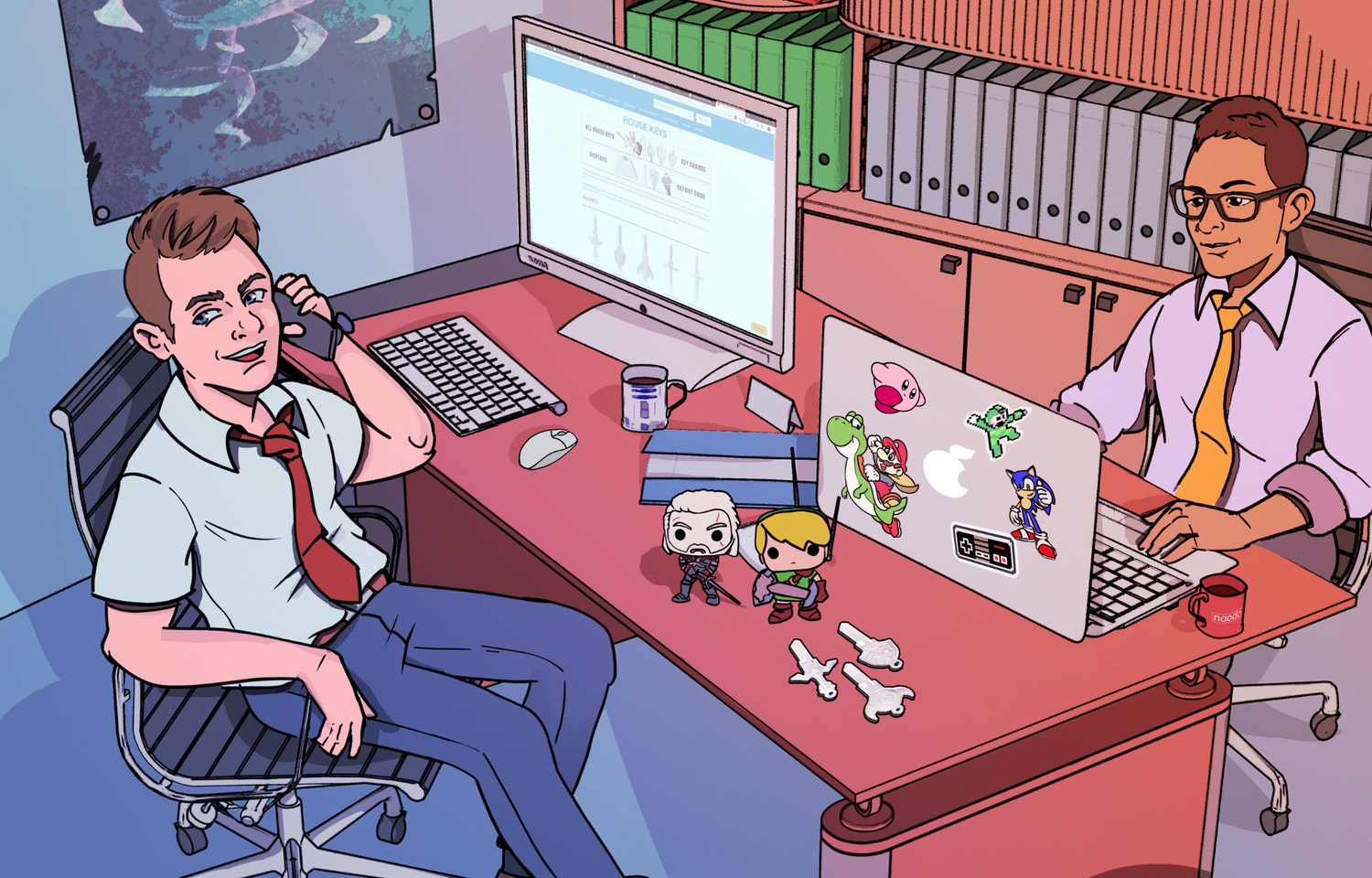 Brian & Rod designed The Key Armory's first twenty designs while working from a broom closet...
In March 2017 we decided to upgrade our office space and move into a new, much larger office space. Brian used this opportunity to bring all the inventory from his other businesses into one location (as they were spread across a few different places up until then).
In October 2017 Sword Clips was announced to the world and received tremendous feedback. This would be our first non-key product, and we opted to keep the websites different (keys were sold on TheKeyArmory.com & tie clips were sold at SwordClips.com). At the time, it seemed to make sense?
It was at this time that the team met Mateusz, who would go on to become our head artist.
Sword Clips launched on Kickstarter in January 2018. It became our most funded and successful Kickstarter campaign to date, and helped us develop 10 tie clip designs & 3 cufflink designs.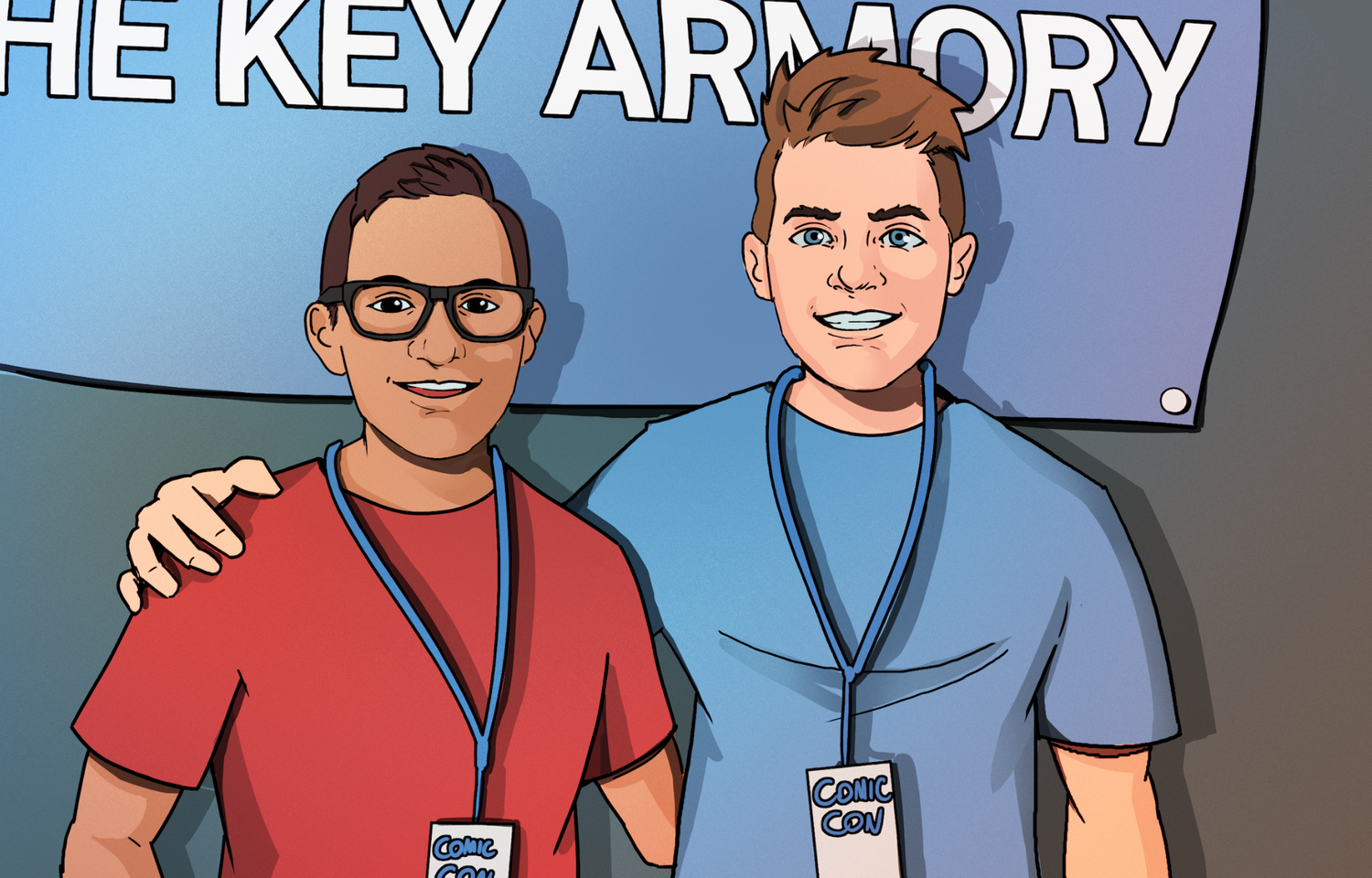 Brian & Rod attended their first convention with just 10 keys in Salt Lake City.
In April 2018 we launched a line of axe bottle openers. Again, for some reason we opted to keep this separate from our keys or tie clips. These launched on BottleBlades.com.
By August 2018 our inventory had grown so much that we needed to again increase our office space. Luckily, we were able to simply grab a few extra rooms that were close to our already existing office space.
Finally, in September 2018 we officially became Hero's Armory!
We came to the realization that it didn't make sense to have 4 different companies & four different websites. We launched HerosArmory.com & all of our other websites began forwarding here.
At this point, the social media channels & branding for The Key Armory, Sword Clips, Bottle Blades & Sword Drives shut down, and they all became a single page known as Hero's Armory. In hindsight, we wish we would have done this years ago when Brian's wife originally suggested it...sorry, Kara.
In October 2018 our fourth product line, a group of sword shaped USB drives, launched on Kickstarter. We funded 5 different designs. Through the campaign, we also upgraded the USB drives from 2.0 to 3.0! Originally, these were called Sword Drives & were expected to be sold at SwordDrives.com before we decided one month earlier to consolidate all websites onto Hero's Armory.
In February 2019 we funded another 8 tie clips on Kickstarter, along with 3 new cufflinks. We also announced plans to launch one more Kickstarter to bring a few original tie designs to life.
In October 2019 we moved from Utah to Idaho, with a new office address! We also brought on Kara to handle all fulfillment & customer service from our new location. Our logo also received a small, probably not even noticeable facelift.
In December 2019 we launched our first lineup of ties on Kickstarter, raising over $80,000 to create 16 designs in 2 sizes, with inspirations from Zelda, Lord of the Rings, Star Wars, Doctor Who, Final Fantasy, Kingdom Hearts & much more!
In January 2020 we released The Sword of Energy Key. This key was the third Halo-inspired product to drop on our site, joining the already existing Sword of Energy Tie Clip & The Covenant Tie!
In May 2020 we released the Sword of Foresight (Tie Clip) to go along with our already existing Sword of Foresight (Key). It became our first tie clip to feature red, a color beyond our standard silver, gold or charcoal variants.
In September 2020, we released The Hero's Sword (Tie Clip) in charcoal.
In December 2020, we released The Baton of Winds (Tie Clip) & announced the King's Blade Reforged (Tie Clip), with a ship date of January 2021. We also began working on our newest lineup of products, with an expected launch date of Q1 2021!
Today, Hero's Armory continues to create useful products for the practical nerd! We have plans to extend our already existing product lines, and we can't wait for you to be a part of them. Thank you, Heroes!
Meet the team...
Brian

Brian is the owner &
original founder of Hero's Armory. He is a full time entrepreneur & a full time nerd! Brian is the father of three children, loves Zelda, Lord of the Rings & watching the Utah Jazz!

Rod

Rod is the sales & conventions coordinator for Hero's Armory. Find us at a convention, and it's very likely Rod you'll be talking to! Outside of Hero's Armory, Rod is a talented musician & Kingdom Hearts fan!

Kara

Kara is in charge of
customer service, shipping & fulfillment for the entirety of Hero's Armory. She is a hardworking mom of 3 who loves photography and playing Mario Kart with her oldest boy!

Mateusz

Any art you see on this website, on our social media channels, at live shows or anywhere else is brought to life by Mateusz (or Mat). Mat loves DC comics, DragonQuest & much more!